WordPress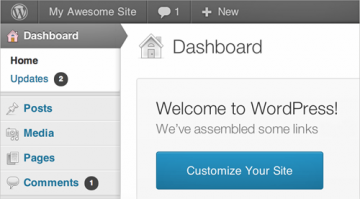 WordPress is an open source software system and has become the world's most popular website-building platform.
WordPress was originally designed as just a blogging system, but has evolved to be an easy to use blog tool and publishing platform. It is a full content management system (CMS), meaning that it's a development tool for building sites with a great set of flexible and easily modified features.
Bottom line – WordPress allows total flexibility over the design of each website and makes it incredibly easy for you, as the site owner, to edit existing content and add new content yourself. With CMS you can manipulate, add pages, update content, change the pictures, or create blog posts any time you have the time!

WordPress Can Be Customized to Suit Your Unique Needs
The following are some terms associated with WordPress and sites designed using CMS. If you're a customer who prefers to have more control over the maintenance of your site, by the time you've made a few back-end site adjustments, these terms will be completely familiar!
To expand the core functionality of WordPress, thousands of WordPress plugins* and widgets* are available making your website design and usability possibilities nearly limitless!
*Plugins are extensions that add additional functions and features to the basic WordPress software so that each site owner can tailor their website to their specific needs. These are what turn the blog platform into a full content management system.
Plugins can be installed using the WordPress plugin installer and are managed through the WordPress administration section of the site.
*Widget areas, where you can add plugins to your sidebar content, are designed to provide a simple way to arrange various elements such as text of your choosing, links to the latest articles, or even a calendar of upcoming events. It's like a mini-program or piece of software that adds functionality to a website.
WordPress Design Elements
Website Colours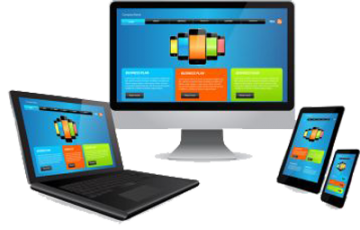 You can choose from any colour scheme you want. It's entirely up to you! It can be your company colours, your favourite colours, or something completely different.
Background
This is the section behind the main body that contains your site information. It can be a solid colour with or without treatment, or an image. A good example is a background of solid colour with a gradient treatment, stripes or polka dots or even a content-related graphic.
Header
Every WordPress site needs a header.This is the space at the top of your site that contains your website title, typically your company name and logo (if you have one). It can be customized just for you with images, fonts, colours, treatments and more.
Dynamic Page Generation
WordPress uses templates to generate the pages dynamically and lets you create pages (stand alone content) and posts (time-driven content) to develop the content of your website.
Every installation of WordPress comes with a file editor you can use to edit your pages right in your browser without having to worry about downloading and uploading the files in order to edit them. With just a click your new pages and/or changes are published to the net!
WordPress is cross-browser compatible so the website you design will look just how you want it to no matter what platform the visitors are using.
Navigation Made Simple
You'll need some type of menu to help visitors navigate your site. A key reason that WordPress works well as a content management system is because it makes creating site navigation menus simple and it manages and updates the navigation for you. As you add pages to your site, they're also added to your site's navigation menu.
CSS Formatting
CSS stands for Cascading Style Sheets. It allows you to store style presentation information (like colours and layout) providing precision control of your website layout and making your pages faster and easier to update and more appealing. It's as easy as working in Word!
Sidebars
Sidebars break up your information and can provide secondary site navigation. You can have one sidebar or two. They can be on the right or left, or even one on each side of the main page content. In WordPress the sidebar typically includes pages, categories, archives, space to advertise and more. The sidebar can be customized to suit your needs with the use of colours, fonts, images and width adjustments to name a few. How you lay out your page is up to you!
Picture/File Uploading
You can upload pictures or files and link to them or display them in your articles. You have the option of creating thumbnails of pictures when you upload them.
Social Media Widgets
Facebook, Twitter, Google+, LinkedIn, YouTube, Instagram, Pinterest
Incorporating social media into your website allows you to connect with your readers and customers with the goal of increasing your exposure! Enable your visitors to easily recommend your website, and you automatically make it accessible to an even larger target audience.
Searching
WordPress has a functional built-in search tool, which allows visitors to your site to search for terms they are interested in.
Google® Maps
Your site visitors will be able to easily find you with Google Maps!
Footer
This section is located at the bottom of your site. It is similar to the header, but usually smaller and simpler. The footer usually contains contact or copyright information. It can be customized with color, images and fonts.
Search Engine Optimization (SEO)
WordPress comes ready to embrace search engines. Its features and functions guide a search engine through the pages, posts and categories to help the search engine crawl your site from page to page and gather the information it needs to include your site within its database.
Good navigational links to the various pages on your site will invite a search engine to move gracefully from one page to another, following the connecting links and visiting most of your site.
While moving through your site a search engine gathers content and information by evaluating the words, giving credit to certain words and combinations of words. Words found within your pages are compared to words found within your links and titles.
Content however, is still king when it comes to search engines! The words, the content, the material in your site that explains, shares, informs and educates your site visitors is the content search engines digest.
To learn about WordPress open source platform in a lot more detail, go to WordPress.org »
Site Updating & Maintenance
WordPress websites are built on the idea that you will have ongoing updates, changes and additions to be made to your site over time. The WordPress system enables you to do the majority of your simple changes and additions without prior web design knowledge.
If you have a WordPress website and need assistance fixing a problem, we can help. We have many years experience in installing, configuring and managing WordPress websites.
If you prefer to update your own website content, with a little instruction on WordPress editing and the back-end dashboard, you'll be updating your site content in no time!
In our portfolio gallery you'll see diverse examples that showcase our work and demonstrate that a WordPress site can work well for businesses of all types.
If you're ready to build your WordPress powered site, give us a call. We look forward to helping you bring your website vision to life!
"Reach high, for the stars lie hidden in your soul.
Dream deep, for every dream precedes the goal."
– Ralph Vaull Starrs