Looking for Mobile App Development?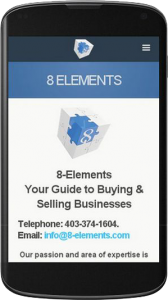 Mobile technology is growing at breakneck speed these days and is fast-becoming one of the most popular ways of browsing the internet. Customers are ready to connect with your business on screens of all types and sizes. In fact, smartphones, tablets and handheld devices are overtaking desktop screens in many places. If you want to connect with your customers fast, perhaps it's time to invest in a customized mobile app!
Your business Contact Info – One-Touch Dialing.
Customers can call your business with a single click.
We can help create a custom mobile "Contact page" app(s) for your business to integrate with your website +/or social media banners. Your app can include simple things from your company name and logo, your phone number, location, custom email forms to get your email messages out quickly, images, upcoming events, or even a link to your full website.
Call 403-257-7047 today. We'll help you create a professional Contact page app quickly and inexpensively.
Please note: Because each client's needs are so unique and vary according to preferences, each mobile phone app project is subject to its own pricing. Please contact us directly to discuss our fees. Thanks!