We're constantly seeing new design trends introduced to the industry. Here's a quick overview of a few of the top trends that you'll likely see emerging, that is, if you haven't already! These design techniques constantly evolve to enhance the site users' web experience.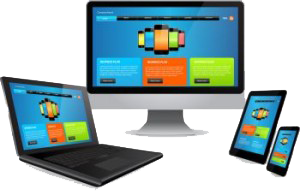 Flat Design is minimalist-styled design with less clutter keeping the website simple, clean and modern, and focused on the site content. Flat design does away with anything that doesn't add value to the content such as heavy gradients, shadows, 3D effects, superfluous images and unnecessary decorations.
Large Banners/Header Areas at the top of the website such as massive pictures and background images have become an extremely popular design trend. Developing websites with large images, white space and minimal text focuses the users attention on the 'feel' and message of the site.
Inspirational Images focus visitors attention on the feel & message of the site. A visually pleasing look is one of the first impressions your website has on its visitors. One of the biggest trends in web design currently is the use of amazing large, even over-sized, high quality, high resolution images on the home page (or at the top of any web page for that matter) to draw visitors into the page.
Typography Variety in terms of size and styling add a little uniqueness to website design. That is, not your standard serif or san-serif fonts such as Georgia, Times New Roman, Arial and Helvetica, to name a few of the old standards, but a mix and match of more bold fonts in bigger sizes.
Simple Colour Schemes or monochromatic palettes of only one or two colors and varying shades lending to a crisp, clean, minimalist effect easy on the eyes!
Responsive Design ensures website design functions and content looks consistent on mobile devices as well as desktop. Adapting design for the user experience on smaller screens, which are rapidly surpassing desktops in browser popularity!
Fixed Position Navigation stays put in a browser window and doesn't disappear as a user scrolls down the page. Navigation bars will be visible and available at all times!
So there you have a few of the web design trends taking shape this year that will likely continue to trend throughout 2015. Web design is forever evolving so check back soon for more design technique updates…