WordPress for All Types of Businesses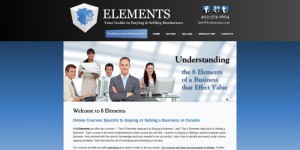 We just completed a website revision for a previous client, 8-Elements. The request was to replace their outdated html site with an updated presence in WordPress, so that they are free to manage their own website content as time and inclination permits.
Click the thumbnail to view the live site. You'll see that, even though WordPress began as a blogging platform, these days any website can be developed with static pages to look just like a fully functioning website vs a blog. WordPress websites work well for businesses of all types.
If you have an old site that you'd like to transform give us a call. We'd love to put our expertise to work for you and bring any vision you might have to life!